Imagine handing her a pail of tetra-pack milk today with a loofah, reminding her to wash behind the ears. The preservatives would cancel out any benefits her skin may have received from the protein, vitamins and minerals inherent in milk, and she'd look just as tired and stressed out as the rest of us feel.
Desperately, Cleo (just like the rest of us) would then turn to the attractively-marketed local and foreign skincare brands lining supermarket shelves, gracing billboards and television commercials, sometimes with celebrity endorsement. But the ingredients may as well be hieroglyphics — polyacrylatedimethyl tauramide, trifluoromethylphenyl, polycapro­lactone, methylparaben…
Most skincare ingredients are emulsifiers and thickening agents, and have nothing to do with actually revitalising our skin, even if the package promises so.
Companies claim that the quantity of chemicals in their products are too small to be considered toxic or harmful, and ideally they are regulated by drug agencies. But we don't really know what the long-term effects of daily or weekly usage can be and, sadly, one has to be especially careful of local brands that are routinely found to contain above trace-amounts of lead.
Why go for expensive, branded skincare products when you can make them yourself from natural ingredients at home?
To keep things simple and old school — and in the process, natural, organic, pronounceable and cheap — look no further than your garden and local grocery store. As a general rule, if you're not comfortable eating it, then it shouldn't go on your face or body either. Below are a few alternatives to the gunk the beauty industry sells us.
---
FACE MASKS
Pollution, dirt and the general wear and tear saps the vitality out of our skin and clogs our pores. Face masks are the perfect way to add colour, freshness and moisture back into tired skin. Ideally, use them once or twice a week — a lazy Sunday is a nice day to do it. The ones below will brighten your dull old face right up:
FOR REPLENISHING: YOGHURT, HONEY AND ALOE MASK
2 tablespoon of plain yoghurt
1 tablespoon of organic honey
1-2 tablespoons of aloe vera. (Buying a small aloe vera plant from a nursery is highly recommended; it's truly the gift that keeps on giving.)
Mix these three ingredients well and apply a thick layer on your face avoiding the eye area — you can use either your fingertips or (easier) a baking brush.
Leave on for about 20 minutes, then rinse.
Because the mixture won't be very thick, it is best to lie down with a towel under your head as you wait for it to be absorbed, otherwise it will dribble down your neck. Increasing the amount of aloe will increase the thickness of the mask. You can also do without the organic honey if aloe is too pricey (but using regular honey won't have quite the same effect).
Yoghurt is a gentle cleanser, unlike a lot of on-the-shelf stuff which can be quite harsh. (Salicylic acid, for example, is used in many acne-fighting cleansers.) Being dairy-based, it contains a good amount of lactic acid, which cleans pores; honey is hydrating as well as soothing, and there's really nothing aloe isn't good for.
FOR ACNE: YOGHURT, HONEY AND TURMERIC
1-2 tablespoons turmeric
1 tablespoon honey
1 tablespoon yoghurt
A few drops of lemon (optional).
Mix well, apply as above and rinse after 15-20 minutes. I also suggest that you rinse it off with a cleanser (see below for a homemade one) or a gentle soap — using plain water may leave your face looking as orange as Donald Trump's. Turmeric is strong! Wash twice if you have to.
Other than the above-mentioned ways of getting rid of turmeric, you can also apply lemon mixed with water for a while, leave it on for five minutes. This will reduce the orange tint turmeric tends to leave and will give you an overall glow from within.
Turmeric has anti-oxidant, anti-inflammatory properties, and thus is an effective acne-fighter — we love turmeric in our food, and it's just as great on our mugs. Lemon, used often, lightens the skin (for all you whitening cream colonised nuts) — however use it in moderation as too much may sting sensitive skin.
While one usually avoids the under-eye area while applying face masks, (carefully!) applying some of this one under the eyes can help with dark circles over time.
FOR SOOTHING: MINT AND CUCUMBER
1 cucumber
A handful of mint leaves
Blend the cucumber and mint together in a blender and place the liquid in the fridge until it cools and forms into a paste-like substance. Apply as above for 15-20 minutes.
This one is especially good for summer, as cucumber will have a cooling effect on your skin — this is particularly useful for skin irritation or swelling but it is also good for acne-prone skin especially for summers when the pimple-popping business appears out of nowhere.
The mint has anti-bacterial properties to kill off germs that can lead to break-outs, and helps to minimise the appearance of large pores.
---
FACIAL CLEANSER
Unlike face masks, cleansers are meant for daily use — ideally before bed — to wash off the day's dirt and pollution. But most cleansers on the market are harsh and, ironically, dehydrating; much like shampoo does to the hair, they strip your skin of its natural oils.
In place of a store-bought cleanser, clean your face with baby oil or coconut oil. Wet a pad of cotton wool and then squeeze the water out. Then, apply a small amount of the oil onto the cotton wool and gently wipe your face with it, upwards away from the pull of gravity. At the end of the day, you'll notice how grimy the cotton wool gets, so this is an effective cleanser. Repeat with as many cotton pads as you need until your face is clean. Rinse off excess oil with water.
Also, to remove makeup at the end of the day, plain old coconut oil or baby oil on cotton wool is far gentler and as effective as store-bought makeup remover.
A small amount of almond oil under the eyes at night is also a good alternative to a night (eye) cream. Finally, if you can get your hands on castile soap (i.e. vegetable-based soap) and raw honey, and you have the time and inclination, you can make your own cleanser:
CASTILE SOAP, RAW HONEY, COCONUT MILK
1/2 cup (liquid) castile soap (unscented)
1/2 cup raw honey
2 tablespoons coconut milk (you can substitute this with water if you prefer)
(If this seems like extra quantity of cleanser than what you want, use half the ingredients. I do not recommend making more than the above quantity, however, as natural ingredients do not last the way artificial cleansers do as natural stuff does not contain preservatives.)
Mix these ingredients until they're combined well, and transfer them to an airtight container — a squirt bottle would be easiest to use, such as an old liquid soap container.
This would also make a great gift if you can find a pretty bottle to transfer the cleanser into.
---
LIP SCRUB
We tend to forget about our lips, but just like our face, the build-up of dead skin cells makes them dull and dry, too. The below recipe will make your lips feel plumper and brighter after you use it a few times. Use one to two times a week.
BROWN SUGAR, HONEY OR COCONUT OIL (OR BOTH)
1 tablespoon of granulated brown sugar
1 teaspoon of honey or coconut oil (or both) to form a paste.
Mix these ingredients well and refrigerate in a jar for future use. Gently rub the grainy paste or scrub on your lips for two minutes or so, let sit for another minute to absorb the goodness from the oil and honey, then rinse. Apply lip balm after use.
The sugar will exfoliate your lips, while the honey or oil provides the moisture. You can add a drop of vanilla extract or an essential oil of your choice.
COFFEE GROUNDS AND COCONUT OIL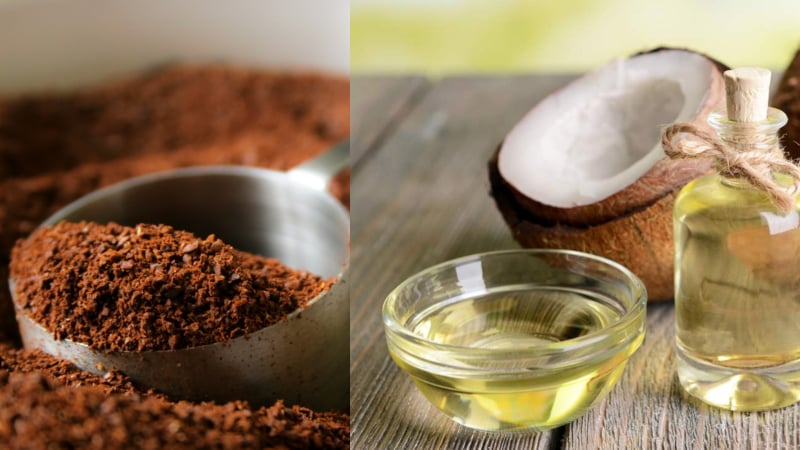 Here, coffee grounds replace the sugar as the exfoliating agent. Caffeine not only wakes us up in the morning — it also plumps and rejuvenates your lips. You can also use the coffee and coconut oil scrub on your dark spots, as well as your dark circles to lighten them.
Of course, herbal skin care does take more time and effort than simply buying and using ready-made products.
Everything man-made has some element of toxicity in it (did you know that the state of California recently made it mandatory to put warning labels on the dangers of cancer on fake leather jackets sold in fast-fashion stores?), and to truly live as cleanly as possible we'd have to wear hemp-sacks, plant all our own food and move to the mountains. Take what you will of these natural alternatives, and incorporate what you feasibly can.
If you have neither the time nor energy for DIY skin care, remember that the fundamental way to care for your skin is your diet.
Your skin is the last part of your body to receive the vitamins and minerals that you consume, so eating plenty of fruits and vegetables is essential to make sure you have enough of these nutrients to finally reach the skin after they've been absorbed by other parts of the body. This has been referred to as "beauty eating" — taking care of your looks from within, rather than without.
They are, after all, the physical manifestations of your internal health. And remember, when it comes to skin, nothing beats chugging water. Aim to drink about half your body weight (calculated in pounds) in ounces; add another couple of glasses to combat the heat or if you exercise regularly.
(Visited 19 times, 1 visits today)